Greetings,
During this unprecedented global health emergency, we are all looking for ways that we can help. It is our belief that in tough times it is more important than ever to band together and support our supply chain community in any way possible. Many criminals will see this as an opportunity to take advantage of the fact that securing cargo may not be the immediate priority. To this end, CargoNet will be providing complimentary cargo theft response services. That means supply chain professionals can report a cargo theft event and will gain access to CargoNet's 24/7/365 command center and subject matter experts which includes our cargo recovery network and award-winning investigative support.
Additionally, we're sharing CargoNet's Top 20 Driver Security Tactics to keep your shipments safe in-transit. Feel free to share these tips as you deem appropriate.
Lastly, we would like to thank everyone in our industry for your commitment and dedication to delivering lifesaving products when we need it the most. We are fortunate to have people like you steering the way. It's difficult to predict what the next few months will look like, but we need to work together to protect our teams, loved ones, and local communities.
We wish you all the best, please remain safe.
Team CargoNet
1 888 595 CNET (2638)
cargotheft@cargonet.com
How to Report a Theft to CargoNet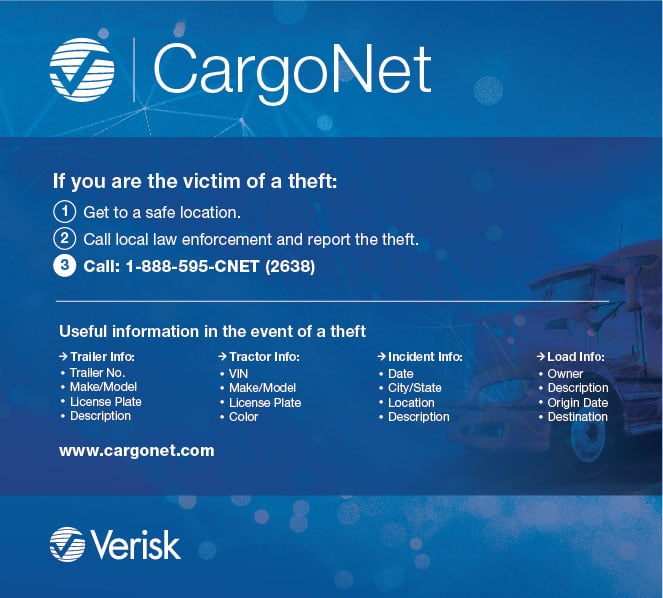 As the COVID-19 outbreak continues to evolve, Verisk is monitoring the situation closely, consulting our team of business and technical experts, and keeping a close watch on information from public health organizations. To help you navigate the challenges and impact of the outbreak, we're providing these helpful resources...View Resources