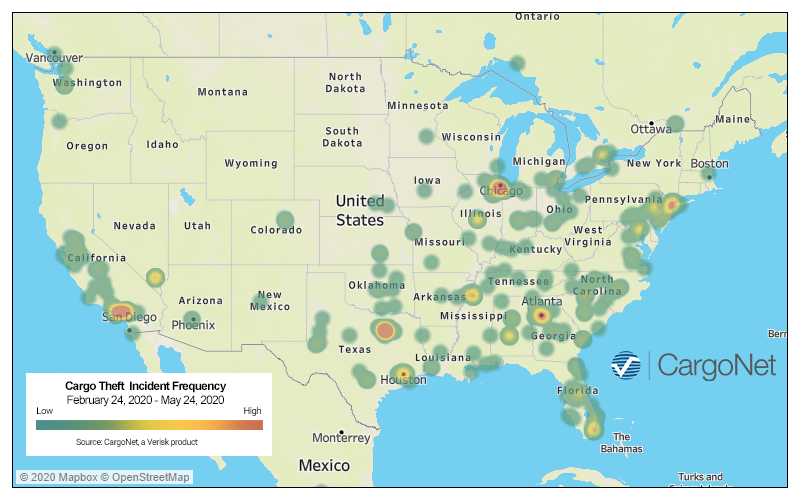 Throughout this unprecedented global health emergency, we are all looking for ways that we can help. Many criminals will see this as an opportunity to take advantage of the fact that securing cargo may not be the immediate priority. Several organizations have contacted CargoNet to inquire what the COVID-19 outbreak might mean for cargo theft and the security of the supply chain. We're in uncharted waters and it is difficult to know exactly how people will react, but we can offer our observations of how theft has changed so far and potential future issues.
For several years, the efforts of law enforcement task forces and agencies across the United States had led to a reduction in cargo theft and the disruptions it causes to commerce. When the COVID-19 Pandemic began disrupting daily life in the United States, we recorded and continue to record a severe increase in cargo theft and theft of trucking vehicles.
Theft Activity Analysis
CargoNet's COVID-19 analysis period covers theft of trucking vehicles or cargo between week 9 and 21 of 2019 (Feb. 25 –May 26) and 2020 (Feb. 24 – May 24). When the crime was reported within 10 days of occurrence to control for historical data collection.
During this time period, CargoNet recorded 266 theft events in the United States and Canada, an increase of 44.57% from 2019. The weeks with the most significant increases were week 12 (March 16 - March 22) with an increase of 150% and week 16 (April 13 - April 19) with an increase of 140%.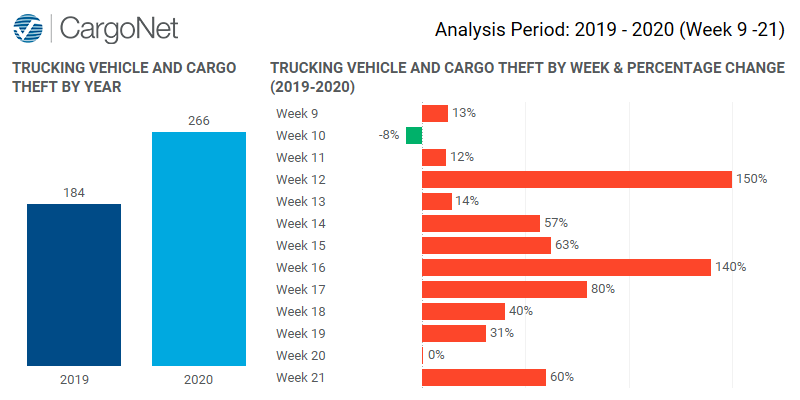 The Impact of Economic Hardship
CargoNet has concern that shipments of food and beverage product, medical supplies, or other essential household goods may be targeted by thieves looking to exploit this crisis. This will most commonly manifest in the form of burglary of parked, loaded trailers. Seal integrity on shipments for some of these commodities is very important and even a minor trailer burglary event could lead to the entire shipment having to be destroyed.
Professional Thieves are Using the Outbreak to Their Advantage
We've seen more brazen heists like the theft of 7 truckloads of copper scrap in Riverton, IL on 3/23/20 and 3/24/20.
Additionally, CargoNet has noted increased targeting of goods that are now in high demand. Some examples include:
A truckload amount of nitrile gloves stolen in Charleston, SC.
A truckload amount of whiskey from Atlanta, GA.
A truckload amount grocery goods stolen in Perris, CA.

Uptick in Fictitious Pick Up Activity
In 2020, CargoNet has recorded fictitious cargo pickup activity from at least five different cargo theft groups across the United States. The COVID-19 Pandemic has seemed to only empower these groups to continue operations.
These cargo theft groups are primarily using load boards to locate desirable shipments. They then contact the logistics company responsible for that shipment and deceive them into thinking they are a legitimate truck driver looking for work. If the logistics company agrees to tender the shipment the suspects will attempt to steal it by taking possession of the shipment and never delivering it. They have been doing this by either: (a) sending in an associate - usually with a burner phone and fictitious driver's license - to pick up the shipment or (b) contracting an unknowing, legitimate trucking company to pick up the shipment and deliver it to a secondary location where they can take possession of it.
These groups deceive logistics companies by either: (a) stealing the identity of existing motor carriers or (b) creating a new motor carrier, which includes incorporating a business and registering with US DOT.
By the time the logistics company realizes the people they hired aren't legitimate truckers they have already taken possession of the shipment and severed all contact.

Report a Cargo Theft
It is more important than ever to keep our supply lines secure. We've sent out notices to the transportation and insurance industry that CargoNet will be providing complimentary cargo theft response services to any victim of theft. It is vital that we learn about any cargo theft in this time, so we can work to make sure law enforcement and public health officials are properly notified. If your agency has received report of a cargo theft, CargoNet is reachable 24/7 by calling 888-595-2638 or by emailing cargotheft@cargonet.com.