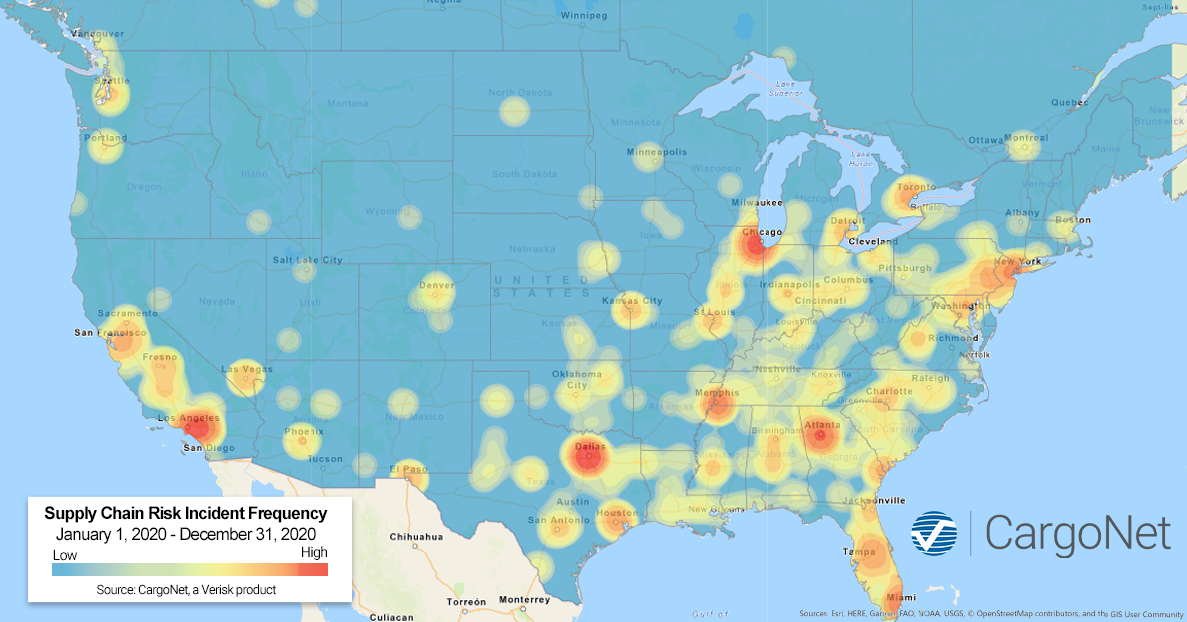 JERSEY CITY, N.J. — The COVID-19 pandemic and the associated supply chain disruption has created an excellent operating environment for cargo thieves.
For 2020, CargoNet® reports recording 1,676 supply chain risk events across the United States and Canada, a 16 percent increase in activity year-over-year. Forty-eight percent of events involved theft of at least one heavy commercial motor vehicle, like a semi-tractor, semi-trailer, or intermodal chassis or container. Sixty-one percent of events involved theft of cargo or attempted theft of cargo. The average cargo theft was worth $166,334 in 2020 and increased $27,045 from 2019 in part due to increased theft of expensive shipments of pharmaceuticals and medical supplies related to the COVID-19 pandemic.
Texas recorded 232 theft events in 2020, a 93% increase year-over-year. California recorded the second most activity and saw a sizable, but less drastic year-over-year increase of 12%. California was the only state in the top 5 that did not record a 47% or greater increase in activity in 2020. At the county level, Dallas County, TX; Cook County, IL; San Bernardino County, CA; Los Angeles County, CA; and Shelby County, TN reported the most theft activity in 2020. These five counties reported nearly one-quarter of all recorded theft activity in 2020.
Truck stops and retailer parking lots were the most common locations for theft to occur. Texas recorded 39 more events at truck stops than in 2019 while Florida and Georgia recorded 16 and 13 more events, respectively. For parking lots, there were 27 more theft events at parking lots in Florida and 20 more in Texas. Parking lot thefts were also high in California and Illinois.
Household commodities were the most stolen kind of freight in 2020. Specifically, cargo thieves targeted shipments of major appliances, household paper goods, household cleaning supplies like disinfectant sprays, and furniture. Food and beverage commodities were the second most stolen category of freight. Alcoholic beverages were one of the most targeted goods of the year, along with shipments of non-alcoholic beverages like bottled water and soft drinks. Other food items, such as snack foods and prepared boxed or canned foods increased significantly over 2019. Theft of pharmaceutical and medical supplies increased from 2019. Cargo thieves primarily targeted shipments of personal protective equipment and over-the-counter medication, but there were several instances of more brazen thefts like a truckload shipment of ventilators.
For more information, contact:
Brett Garrison
Edelman (for CargoNet)
212-639-4903
Brett.Garrison@edelman.com