JERSEY CITY, N.J. — In the first quarter of 2023, CargoNet's statistics pointed to a continuation of an unprecedented crime wave affecting all parties in the supply chain. CargoNet recorded 602 supply chain risk events across the United States and Canada, a 30% increase in activity from the fourth quarter of 2022 and a 64% increase year-over-year. This is the highest level of activity recorded by CargoNet since Q1 2012.
Reported events increased in nearly every state or province, but much of the increase was due to Southern California-based groups targeting freight in-state and throughout the country via identity theft and non-delivery schemes. Reported events in California increased by 123% year-over-year. Reported events in other high-theft states like Texas and Illinois also increased significantly, 49% year-over-year and 65% year-over-year, respectively.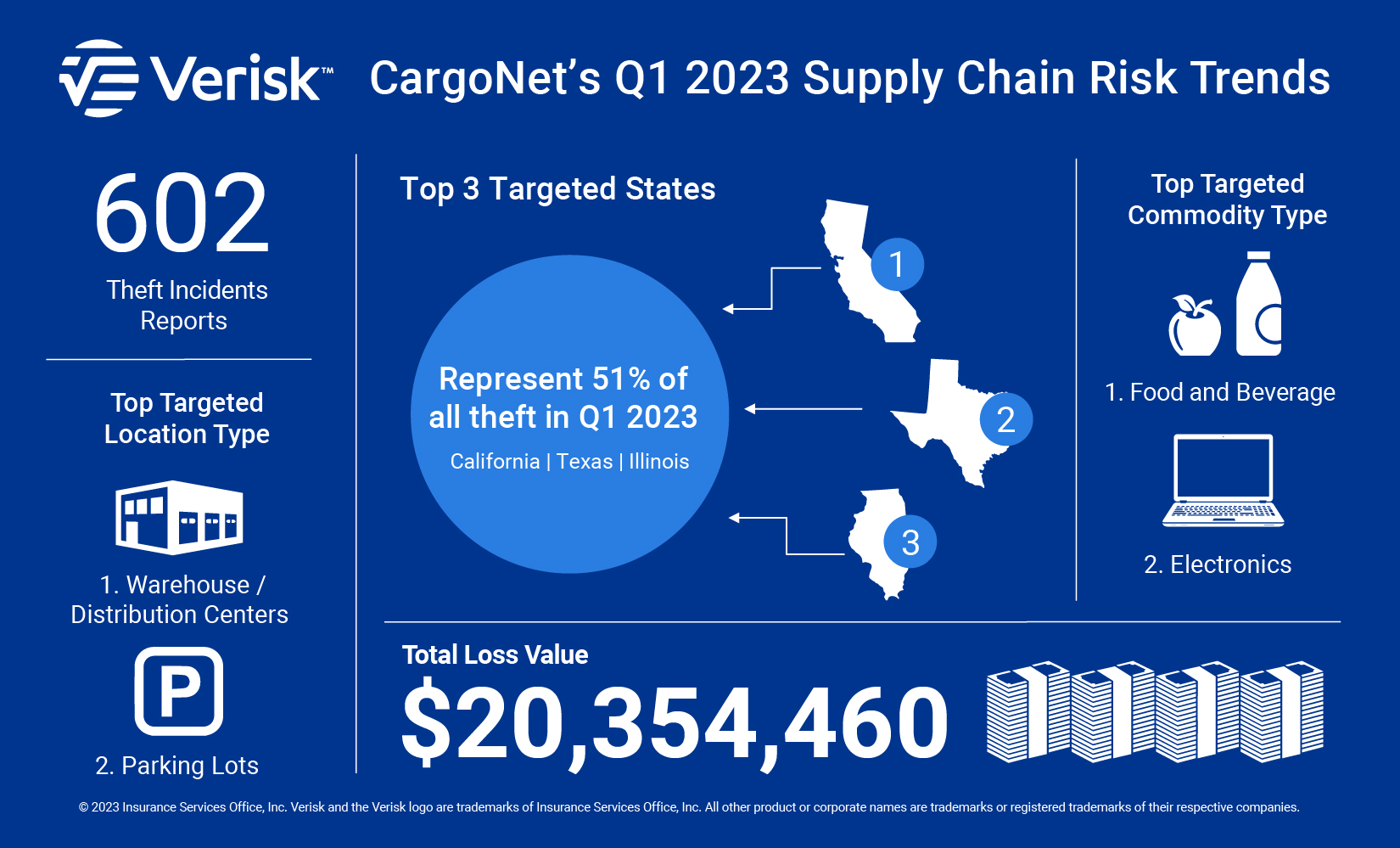 Theft reports in nearly every category of crime recorded by CargoNet increased. Fictitious pickups increased by 1375% year-over-year and 30% from previous all-time highs established last quarter. Fraud reports increased by 176% year-over-year, trailer burglaries increased by 27% year-over-year, and typical cargo theft - usually theft of a loaded trailer - increased by 10%.
Theft of food and beverage items increased by 310% year-over-year. Almost all of the increase was due to significant targeting of alcoholic beverages and non-alcoholic beverages, which increased by +286% year-over-year and +714% year-over-year, respectively. CargoNet also noted the continued targeting of green energy products like solar panels. Theft of energy generation shipments increased by 2000% year-over-year.
We expect the supply chain is in for more trouble, as thieves show no signs of easing up on exploiting weaknesses in commonly practiced identity verification protocols. Law enforcement agencies investigating cargo theft cases have had major success, but the increase in theft is outpacing available resources. We urge supply chain participants to increase their identity verification protocols to mitigate the risk of theft in this unprecedented crime wave.
For more information, contact:
Michelle Pantina
551-500-7327
michelle.pantina@verisk.com